Een drone met warmtebeeldcamera van FLIR (160 x 120 pixels) en een normale 12M RGB camera . Dat is de DJI Mavic 2 Enterprise. De twee camera's zitten samen op 1 gimbal, ready to fly!
Drone met geintegreerde warmtebeeldcamera
De DJI Mavic 2 Enterprise Dual Universal Edition is uitgerust met twee camera's: een FLIR warmtebeeldcamera en een 4K/12M visuele camera. Deze twee camera's zitten samen geïntegreerd aan de voorkant van de drone in dezelfde gimbal en je kan ze tegelijkertijd gebruiken. Eén van de eerste "Ready to Fly" drones inclusief warmtebeeldcamera van FLIR.
Warmtebeelden maken met je drone
Door de beelden van de warmtebeeldcamera van 160 x120 pixels te combineren met de 4K video (of foto) beelden door middel van FLIR's unieke techniek "MSX" maak je duidelijke warmtebeelden welke je live kunt bekijken maar uiteraard ook kunt terugkijken. Ideaal voor het inspecteren vanaf hoogte en over een grotere afstand. De drone heeft een bereik van 8000 meter en kan ruim 30 minuten vliegen op een volle accu.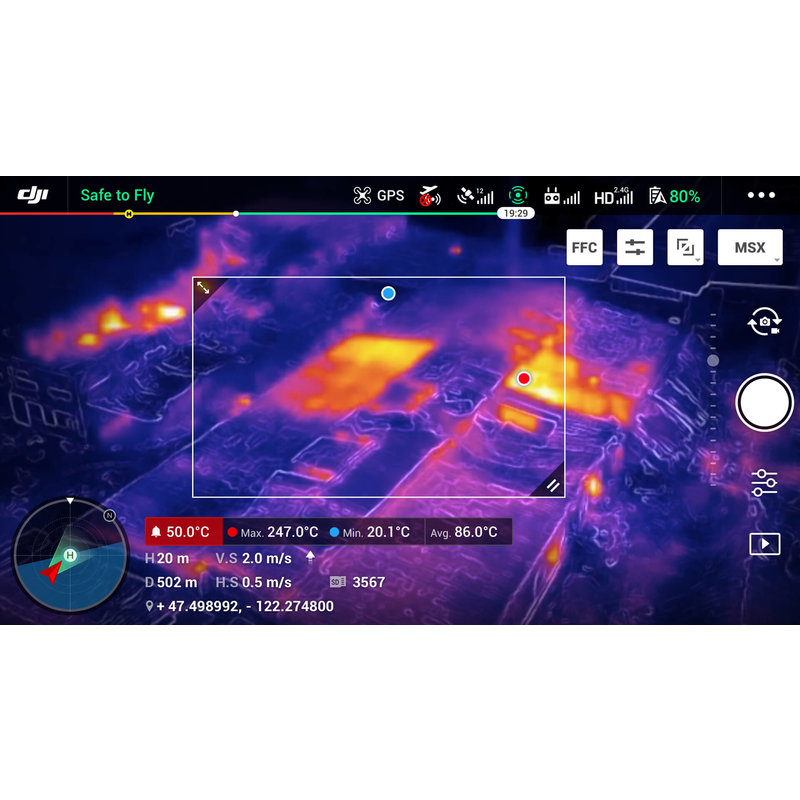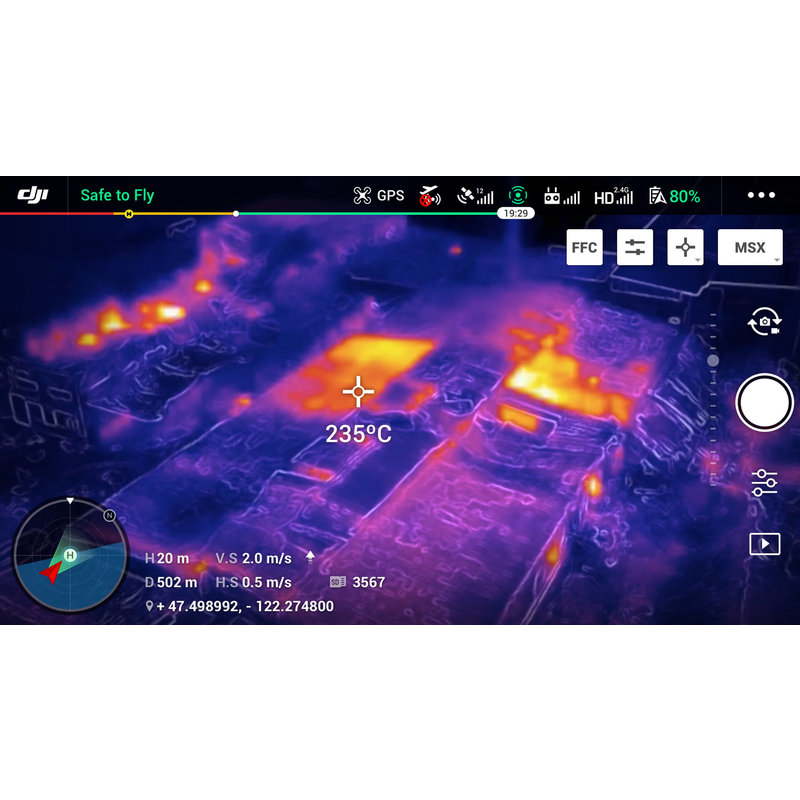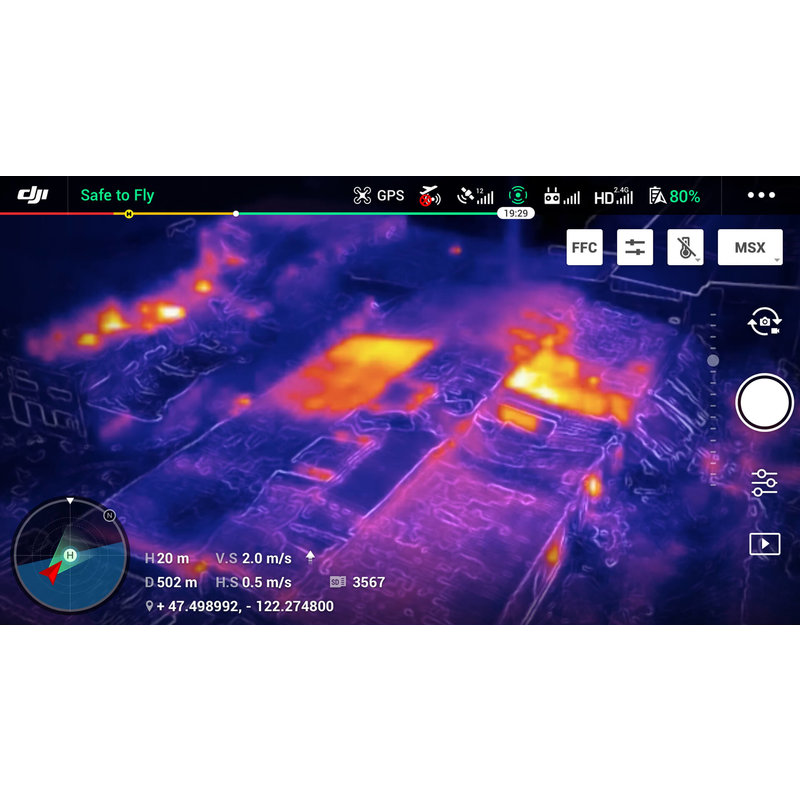 Helaas is er nog geen video beschikbaar van de DJI Mavic Pro 2 Enterprise Dual. Dit is de video van de normale Enterpise. Deze drone heeft dezelfde eigenschappen echter heeft de Dual welke wij verkopen de warmtebeeldcamera extra.
DJI Pilot App
Je stelt de drone in via de DJI Pilot app via je smartphone. Deze verbind je met de meegeleverde controller. Er zijn diverse display standen beschikbaar waaronder FLIR MSX, spotmeter, Isotherm en area measurement.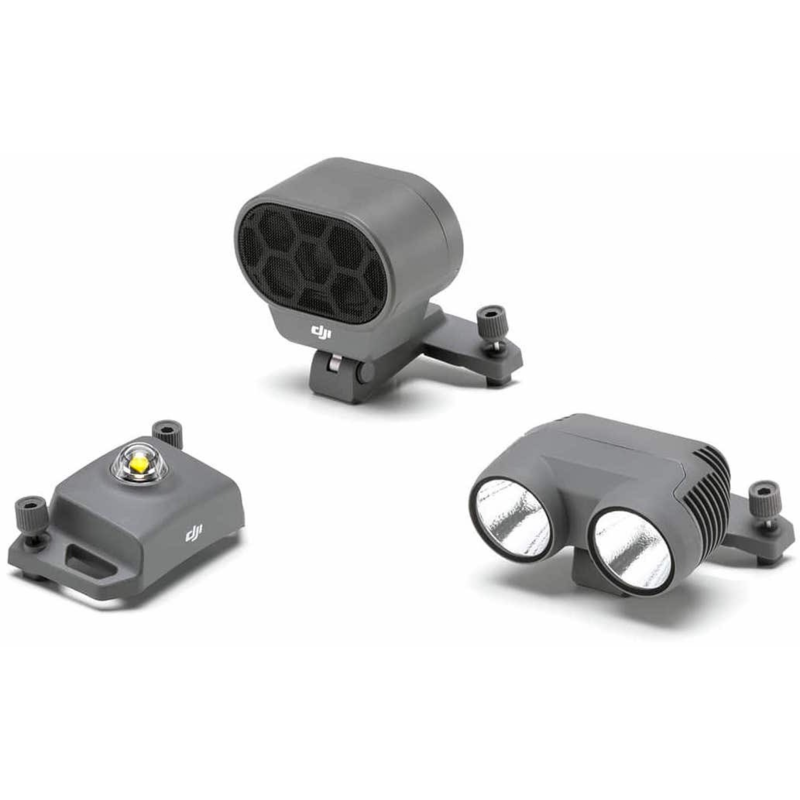 DJI Mavic 2 Enterprise Dual Universal Edition
De Universal Edition van de DJI Mavic 2 Enterprise wordt geleverd met diverse praktische modules welke aan de bovenkant van de drone gemonteerd kunnen worden:
Schijnwerper: 2 felle LED's met een helderheid van 2400 lumens
Speaker: Neem 10 eigen geluids- of spraakberichten op welke kunnen worden afgespeeld in de lucht met 100 Decibel
Beacon: LED Flitser waardoor de drone tot een afstand van 5000 meter zichtbaar is.
Operationeel tot -10 graden
De DJI Mavic 2 Enterprise Dual Universal Edition drone vliegt op een 3850 mAh accu met ingebouwd verwarmingssysteem. Dit zorgt ervoor dat de drone, zonder prestatieverlies, tot -10 graden gebruikt kan worden. Wanneer de accu bijna leeg is zal de drone een sein geven en automatisch terugvliegen. Aan deze controller kan je je eigen telefoon of tablet koppelen, waarna je live kan meekijken met de camera's.
Vlieg veilig met je drone met warmtebeeldcamera
De Mavic 2 Enterprise Dual Universal Edition beschikt over 8 optische en 2 infrarood sensoren, waarmee obstakels worden herkend en hier automatisch omheen zal worden gevlogen. Je neemt de lichte drone van 906 gram eenvoudig mee in de meegeleverde transportkoffer. De Mavic 2 Enterprise drone beschikt over een intern geheugen van 24 GB en dit geheugen kan met een wachtwoord worden beveiligd. Als je de wachtwoord vergrendeling hebt ingeschakeld, zal de drone zelfs niet starten zonder het wachtwoord in te vullen.
DJI Airsense
De DJI Mavic 2 Enterprise heeft DJI Airsense ingebouwd. Simpel gezegd geeft dit de ADS-B signalen van vliegtuigen door aan je remote. Waardoor je kunt zien waar vliegtuigen vliegen.
Direct leverbaar bij Warmtebeeldcamera.nl!