Software for R&D and Science applications
FLIR ResearchIR is aimed at R&D-Science users of thermal imaging cameras with a cooled or uncooled detector. FLIR ResearchIR takes the most out of your thermal imaging camera and allows high speed recording and advanced thermal pattern analysis. ResearchIR is the perfect tool for industrial R&D. Users that are interested in more advanced science applications can choose for ResearchIR Max.

Features of FLIR ResearchIR:
More than 20 language versions available
View, record and store images at high speed
Post-processing of fast thermal events
Generate time-temperature plots from live images or recorded sequences
Advanced Start/Stop recording conditions
Unlimited number of analysis functions (Spot, Line, Area)
File organizer with Quick Collection and preview of sequences
Zoom & Pan allows a closer look
Multiple user-configurable tabs for live images, recorded images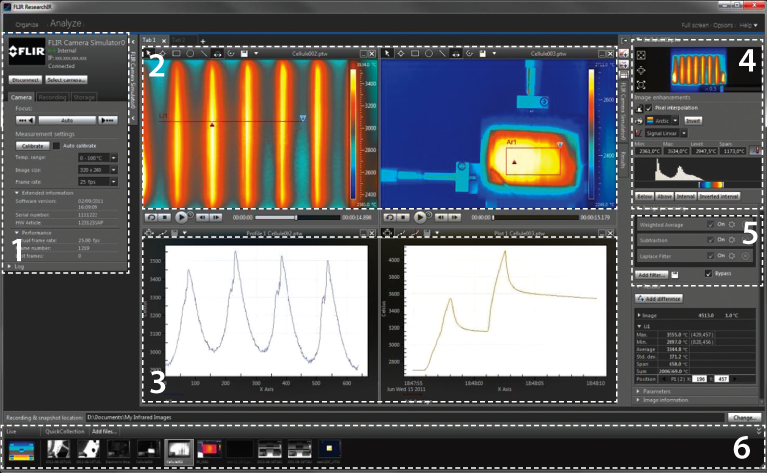 1. Camera and recording control
FLIR ResearchIR software connects directly to FLIR thermal imaging cameras to acquire thermal snapshots or movie files. ResearchIR supports multiple acquisition options, including camera triggering or conditional start/stop, based on thermal measurements. 
2. Flexible measurement workspace:
Imagery, data and charts can be arranged by a simple drag and drop. Measurement analysis can be done live when connected to a thermal imaging camera or in playback with recorded snapshots or movie sequences. 
3. Charts and graphics:
Line profiles are easy to add. Measurement tools or complete image statistics can be plotted against time. A result table presents data statistics for all images in parallel allowing for seamless comparative analysis. 
4. Intuitive image colorization control:
Allows changing the color palette, color distribution, contrast and isotherms, zooming and panning. 
5. Image processing pipe:
Provides powerful real time processing such as image subtraction, sliding subtraction or averaging. Each process can be individually configured and its order can be easily managed. 
6. Quick collection bar:
Shows the active images and sequences.